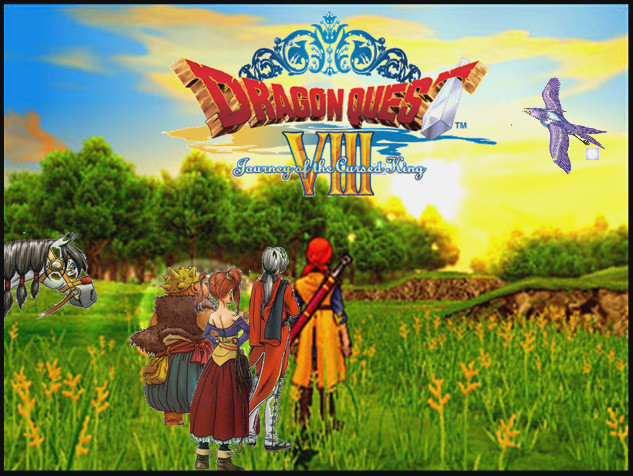 6 Be anxious for nothing, but in everything by prayer and supplication with thanksgiving let your requests be made known to God. 7 And the peace of God, which surpasses all comprehension, will guard your hearts and your minds in Christ Jesus.

-Phillipians 4:6, 7
I would say most, if not all Christians, are taught to read the Bible regularly. This especially goes for people who became Christians when they were kids; not only are you taught (in a Baptist environment, anyway) that it is the book you should be reading, but you're also inundated with content from its pages. Now, that's not to say my knowledge of Scripture in the vein of, say, memorized oral tradition is that exhaustive, but having such an influence on your life is bound to have some effect.
In that sense, the Bible becomes a rock and a shelter in the face of many troubles. Its words, though they might not always comfort one's soul, always comfort in the very act of reading the books themselves. I find this odd to describe to other people, but the Bible tends to relax me when I read, regardless of said content. Misplaced nostalgia? Maybe! But I continue to find it somewhat odd that it has this effect – whereas someone reading Job might be looking for the answer to a theodicy, I do so simply for the pleasure of reading God's Word. There's little details everywhere, and regardless of whatever happened in a day, I still pick them up and enjoy it. It doesn't matter what circumstances I face; I'll fall asleep quite soundly! Whether by the Holy Spirit or not, it's kinda remarkable given that I usually can't stop thinking about stuff until I do this.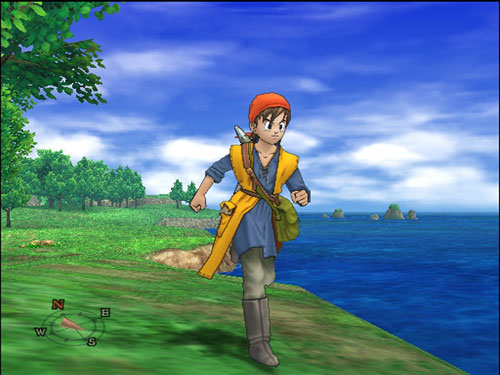 Having started playing Dragon Quest VIII again, I'm getting the same feeling playing the game – it's like video game comfort food. Most Westerners don't find the DQ series very remarkable; in fact, some of the best installments of the series haven't been localized until recently. VIII was the first I played, and I think it really trumps them all. First, I can play it on a console rather than on my cramped hands after holding a DS or Gameboy equivalent for five hours. Second, the game is absolutely BEAUTIFUL. There's nothing that can really do the game justice. It retains a unique aesthetic sense nearly seven years after its Western release, and it's constantly endearing. You can just spend time in this world for hours on end.
Third, monsters actually have animations and PERSONALITY. I can't stress this enough. Most enemies in JRPGs simply exist to die; they're menacing, possibly bizarre looking creatures who must die. Here, each one has their own unique look and feel – you can observe so much detail on them that it's a wonder. Sure, recolors abound, but they also change around the model and its attacks to fit their attitude. That their look actually reflects the strategy you use in battles only adds to the fun. Finding out how much health each enemy has, what order you should attack enemies, their weaknesses, when to "psyche up" (add damage to attacks at the expense of a turn), etc., adds tons of enjoyment to a seemingly simple battle system.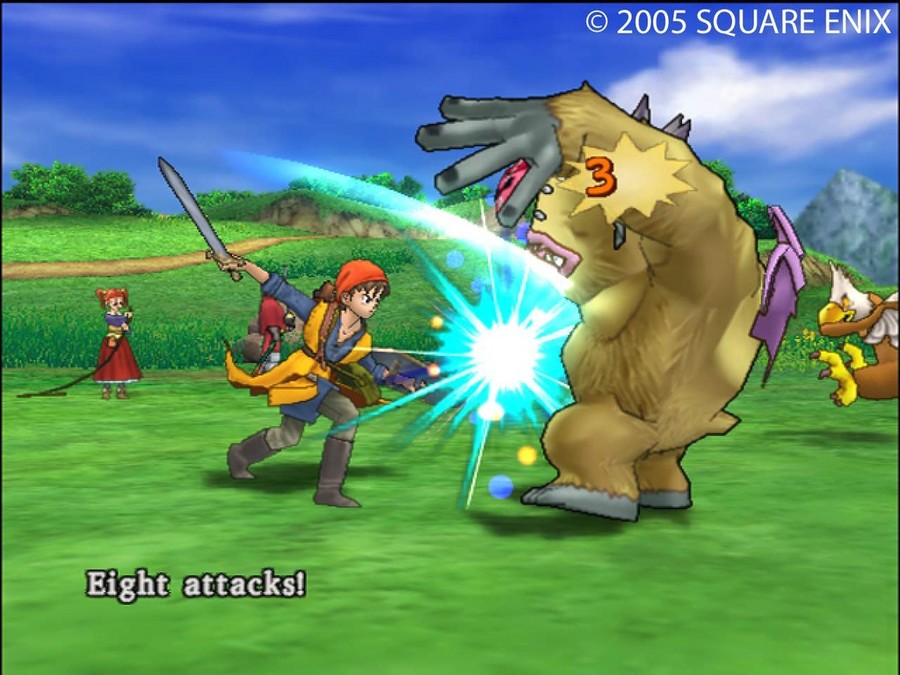 Of course, we all cry "RANDOM BATTLES" in the modern era as if that's some sort of game-breaking contrivance, but I like random battles. I like grinding. I like when a game gives me a reason to grind and makes that grind fun through little things. Like battles requiring microstrategy and attention to get the most out of your resources. Or that armor and weapons cost a heck of a lot of money. Or that you get skill points to distribute with each level that determines the abilities of your motley crew. Or that grinding gives you a change to explore this massive world. Or that you can use the alchemy pot to make rare items out of simple materials while you grind. Or that different terrain actually increases enemy encounter difficulty. Or that survival becomes a mini-game in itself, as you can only save in towns – fundamentally, all Dragon Quests are games about resource management.
Dungeons, in that sense, represent those fundamentals in the best possible light. Since you can't save, they're a constant source of tension as you plumb deeper and deeper into the depths, uncertain where the bottom (or top, depending) lies. You'll want to take the beaten path for the promise of treasure, but you also might be running low on MP or health items. Puzzles don't amaze, but they fit perfectly within the context of each dungeon. Random battles appear frequently to whittle you down, and at some juncture you'll have to escape.
In fact, where many go wrong is exactly at this part: they think they can make it through the game without grinding. That's just not possible. You're an adventurer, after all, out to save the kingdom. You need to grow in strength, and you need to be well-prepared in order to face all the trials ahead. The game actively teaches you the benefits of preparation – don't go out with your pants down. Yet, the game never punishes you too heavily for your risk-taking. If you die out in the field, you'll lose half of your current funds, but all your characters will be resurrected (also, no resurrections outside of town – yet another complication). It's an acceptable loss if you gained a ton of experience, or new items, or new weapons.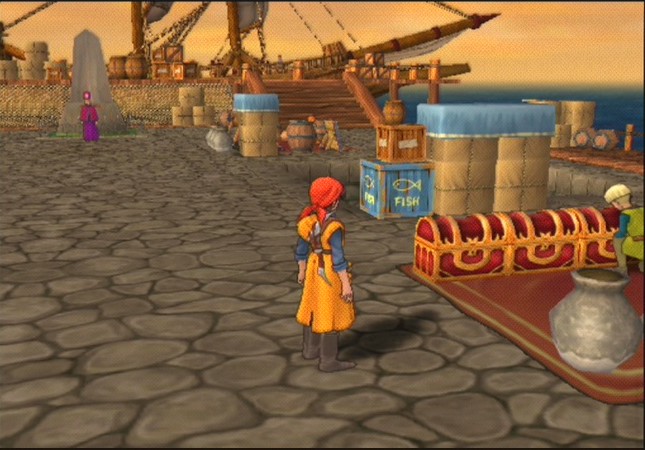 Nor does it ever rush you through the experience – the world will wait for its salvation. It's a game that knows it's a game, and it's almost a relief to play it after some of the modern franchises that must invest deep meaning in everything. Simple, yet refined: the character of a Dragon Quest game. It wants you to savor every moment, look in every nook and cranny, experiment with all the different things the developers threw into the game.
I have to link Tim Rogers' review, just for completion, but a quote from him really seals the deal:
In every casino in every Dragon Quest game, the first time you ever play the slot machine, you win. There are big prizes (like the legendary Metal King Sword) if you're able to win enough times to earn dozens of thousands of coins. You won't be able to earn enough on your first play to buy any legendary items; however, that first win is crucial. Says Yuji Horii, a gambling man himself, of this phenomenon: "It's not a real casino. It's a casino in a videogame. Real casinos could really draw in patrons if they did this. However, they'd also go bankrupt with people coming in, playing once, and leaving. Since it's just a videogame, it's all right." It's just a videogame — it's all right. Yuji Horii knows that he does not lose when you win. This is crucial.
And it is. Yuji Horii's philosophy is encapsulated in one sentence: "Games don't lose when the player wins". You can lose in Dragon Quest, but you never truly lose. There's always the ability to try again and learn from failure, to succeed. It's engaging and fun adding all the little decisions you can make together. I'd rather play this than the Western fantasy stereotype, that's for sure.
So why do I almost fall asleep when playing the game? I thought video games were stressful. Right?
Koichi Sugiyama's music creates, along with the graphics, a continually pastoral feel. It's an ideal of the adventurous fantasy that, when it casts us into the shadows, we find the stark contrast as something real. However, for those lighthearted fields of green, it also causes something I like to call the "head snap". Basically, a head snap is that moment when you're so relaxed that you literally fall asleep for a half second. This usually happens when you're extremely tired, but apparently it can happen here too! Your head falls backwards, then snaps forward when you wake up – hence the term. For being a relatively difficult and long experience (for the uninitated), why would that happen in the middle of the game?
Dragon Quest VIII, and all the games in the series, just has that ineffable sense of comfort to it. It tells you that everything will be fine, and that you can never lose – you just have to try again. The game designers care for you – they want you to have a good time and never feel downtrodden. Success is always just around the corner – when the player wins, everyone wins. It's a greatly enjoyable, yet light, burden. As Matthew 11 says:
28 "Come to Me, all who are weary and heavy-laden, and I will give you rest. 29 Take My yoke upon you and learn from Me, for I am gentle and humble in heart, and you will find rest for your souls. 30 For My yoke is easy and My burden is light."