The year that is drawing towards its close, has been filled with the blessings of fruitful fields and healthful skies. To these bounties, which are so constantly enjoyed that we are prone to forget the source from which they come, others have been added, which are of so extraordinary a nature, that they cannot fail to penetrate and soften even the heart which is habitually insensible to the ever watchful providence of Almighty God. In the midst of a civil war of unequaled magnitude and severity, which has sometimes seemed to foreign States to invite and to provoke their aggression, peace has been preserved with all nations, order has been maintained, the laws have been respected and obeyed, and harmony has prevailed everywhere except in the theatre of military conflict; while that theatre has been greatly contracted by the advancing armies and navies of the Union. Needful diversions of wealth and of strength from the fields of peaceful industry to the national defence, have not arrested the plough, the shuttle or the ship; the axe has enlarged the borders of our settlements, and the mines, as well of iron and coal as of the precious metals, have yielded even more abundantly than heretofore. Population has steadily increased, notwithstanding the waste that has been made in the camp, the siege and the battle-field; and the country, rejoicing in the consiousness of augmented strength and vigor, is permitted to expect continuance of years with large increase of freedom. No human counsel hath devised nor hath any mortal hand worked out these great things. They are the gracious gifts of the Most High God, who, while dealing with us in anger for our sins, hath nevertheless remembered mercy. It has seemed to me fit and proper that they should be solemnly, reverently and gratefully acknowledged as with one heart and one voice by the whole American People. I do therefore invite my fellow citizens in every part of the United States, and also those who are at sea and those who are sojourning in foreign lands, to set apart and observe the last Thursday of November next, as a day of Thanksgiving and Praise to our beneficent Father who dwelleth in the Heavens. And I recommend to them that while offering up the ascriptions justly due to Him for such singular deliverances and blessings, they do also, with humble penitence for our national perverseness and disobedience, commend to His tender care all those who have become widows, orphans, mourners or sufferers in the lamentable civil strife in which we are unavoidably engaged, and fervently implore the interposition of the Almighty Hand to heal the wounds of the nation and to restore it as soon as may be consistent with the Divine purposes to the full enjoyment of peace, harmony, tranquillity and Union.

– Abraham Lincoln, "Proclamation of Thanksgiving", October 3, 1963
Thanksgiving is, for all intents and purposes, a weird holiday. If you've had any kind of education in the United States, this is what it looks like, approximately: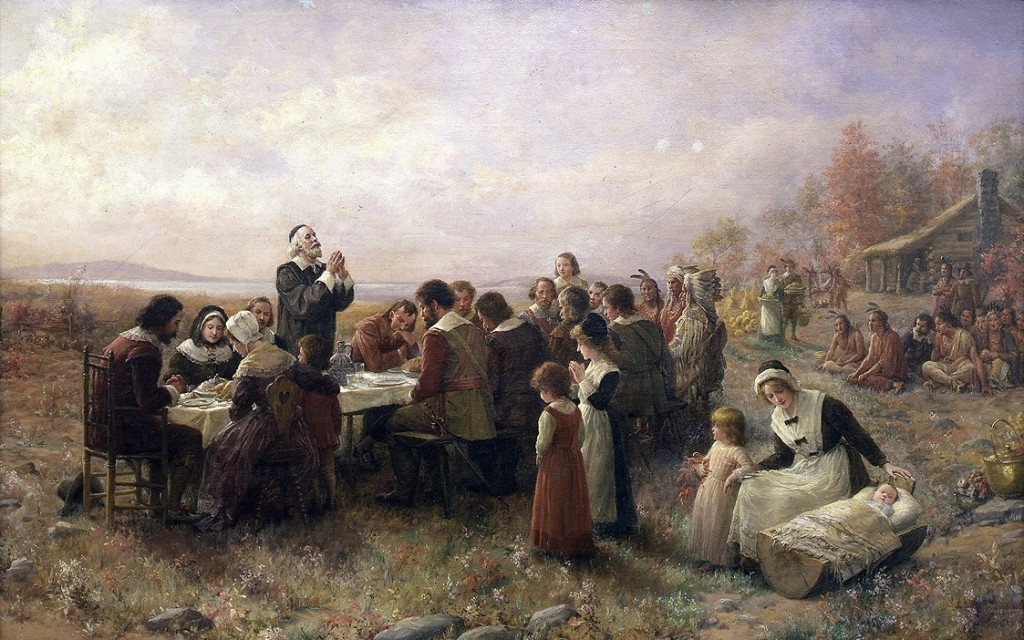 Hey look, Pilgrims and Indians (American Indians to you, buster)! Buckle hats and shoes! Also, they didn't have those, so stop thinking they did! Let's all eat food! Maize corn and burying fish into the ground! Squanto! Yes, I went there. Apparently they didn't even eat a turkey at the first arbitrarily designed harvest festival feast. People were doing this far before 1621, far as I can tell, but Abraham Lincoln made it a national holiday (as described in the Proclamation quoted above). Still, that doesn't mean it isn't predominantly Christian in origin; most of the original settlers of Jamestown enacted the day of their arrival on the New World officially to bring thanksgiving and glory to God.
We could call this a gross generalization, or merely an odd holiday tradition. From a Christian perspective, I find the problem with such holidays is the assumption, and probably a rather true assumption at that, is that we aren't thankful for the things we have (and I'm not talking about material things). Rather, what we do for the other 364/65 days of the years (LEAP YEAR ACCOUNTED) becomes the same-old, same-old; we don't thank anyone. We just accept that we obtained many things in our travels, lives, and elsewhere and move onto the next thing. Unlike those of earlier times, who even during the Civil War created a holiday specifically designated for the lifting of thanks to God above, we no longer have the cultural context to appreciate it in the same way. We've become jaded, not just in what we know but what we do not know, not just what we have but what we cannot have. It's a constant downward spiral of unconscious negative thought – the glass perpetually half empty.
It's difficult to thank anybody for anything. So it is with video games, oftentimes. Who in their right mind has enough time or money on this earth to play every video game? This embarassment of riches proves deadly when you find yourself given game recommendations from a billion (highly exaggerated hyperbole) different sources. Who do you trust? What's a great game, and what's merely a good one? Will my opinion accord with this reviewer, or should I not listen to him/her (usual answer: no, you shouldn't). Adundance brings with it a great responsibility: what do I do with said stuff?
Well, if Abraham Lincoln's inspiring words have anything to say, it's understanding that NOTHING we have comes from our own work. The constant struggle to remain thankful means we have someone to thank. When things are done under our own power, that is when nothing can satisfy. Nor can any sin slake (man, what a great word) our lust for fulfillment, nor finish off any desire. Rather, God above gives every good thing, and God's mercy makes it stick. Thanking, by definition, means there is something to be thanked – that, my friends, is a gift. And Jesus Christ gives the greatest gift of all, as Phillipians 2 makes clear:
2 Therefore if there is any encouragement in Christ, if there is any consolation of love, if there is any fellowship of the Spirit, if any affection and compassion, 2 make my joy complete by being of the same mind, maintaining the same love, united in spirit, intent on one purpose. 3 Do nothing from selfishness or empty conceit, but with humility of mind regard one another as more important than yourselves; 4 do not merely look out for your own personal interests, but also for the interests of others. 5 Have this attitude in yourselves which was also in Christ Jesus, 6 who, although He existed in the form of God, did not regard equality with God a thing to be grasped, 7 but emptied Himself, taking the form of a bond-servant, and being made in the likeness of men. 8 Being found in appearance as a man, He humbled Himself by becoming obedient to the point of death, even death on a cross. 9 For this reason also, God highly exalted Him, and bestowed on Him the name which is above every name, 10 so that at the name of Jesus every knee will bow, of those who are in heaven and on earth and under the earth, 11 and that every tongue will confess that Jesus Christ is Lord, to the glory of God the Father.
And that's true Thankgiving: giving thanks for a gift you can never repay and something you don't even deserve. We can only grasp a small facsimile, but what an encouragement. Thanksgiving's an all day, every day thing, not just on November 22th (really, it's supposed to be the 26th, but who's counting?).
Also, play some video games for GOODNESS SAKE!
Happy Thanksgiving, everybody!