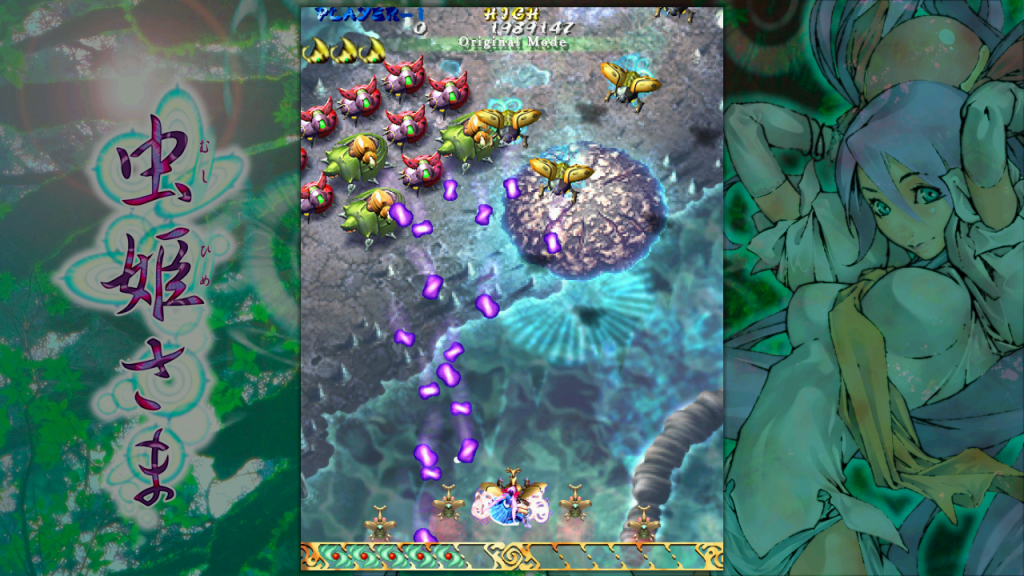 In addition to these modes, there's a Novice mode specifically designed for an entry-level dip into bullet hell; these tend towards the lower end of the difficulty spectrum, but they seem a wonderful way to try the game without immediately failing at it. As a gap to bridge between Novice and Normal, it's perfect for getting newer players up to speed – as long as they want to face an ever-increasing level of challenge. I'm glad the newer versions of the game have new players in mind, since this genre often seems impenetrable; Novice gives most players a good taste of the game itself, which is certainly welcome.
And, really, I'd consider this the main problem with Mushihimesama, especially from a Western perspective: accessibility. The entire theme, design, and choices made by CAVE seem tailored to a Japanese audience, and definitely NOT an American one. Most players probably won't understand the giant jump in difficulty from stage 2 to stage 3, a hallmark of arcade design – but should they? Most people buying this on Steam probably don't know they should not credit feed, but the game doesn't bother to inch players toward that direction – you simply need to figure that out on your own. Add the lack of a tutorial of any kind on how to play and survive, or even how scoring works, and you're left with the distinct impression that CAVE assumed this game would sell only to its hardcore audience.
It puts a lot of trust in the player to either figure things out on their own, or to look up strategies and videos. However, I'm not sure if it's the good kind of inaccessibility. Think of this in terms of Dark Souls – in that game, you could spend a great deal of time learning the rules and intricacies of the systems. Everything makes perfect sense, even if the tutorials don't beat you over the head. The level design, while "open", remains intuitive; the objectives remain clear, as does the means to survive. I wouldn't say Mushihimesama does the same. If you put a credit into the arcades, all you would know comes down to moving and shooting; the rest of these controls, and how to score, wouldn't exactly be clear. Just compare the Maniac scoring system to Eschatos (which basically amounts to "kill everything"). Add the language barrier, and learning the game requires time outside the game. The intricacies aren't intuitive, but abstract. I think that's a problem, but that's a problem endemic to arcade-style video game design. We expect it from games of the genre, but that doesn't make it a positive quality.
Even so, I don't hesitate to give Mushihimesama anything less than a five star rating, mostly because of how much I enjoyed that same learning process. I'm the sort of person who looks for nuances in their game mechanics, to the point where people post endless guides on how to perform well and in excruciating detail. Not surprisingly, a lot of CAVE shmups fall into this category. Mushihimesama, even though seemingly difficult, simply requires a bit of dedication to really understand; after a few hours, I was well on my way to performing well in the game, even beyond my own expectations. Sometimes I would get substantially worse when frustrated, but that's all part of the experience. Even as my skills decayed, I knew it was my fault, and that made all the difference.
Some day, to be sure, we will not need to deal with the notion of imperfection. I think of Mushihimesama in that light: as I strive for a perfect 1CC run where, just for a moment, everything goes right, the holistic experience of the game is a sort of perfect transcendence. Your brain fires on all cynlinders in a perfect ballet, dancing with the devil in the pale moonlight as you avoid everything the game can throw at you. For a moment, you are perfect…and then you fall to earth when that sniper tank punches you right in the fight. But don't despair! Practice will get you over the mountain, and the future of the Christian life is always bright…
16 Therefore we do not lose heart, but though our outer man is decaying, yet our inner man is being renewed day by day. 17 For momentary, light affliction is producing for us an eternal weight of glory far beyond all comparison, 18 while we look not at the things which are seen, but at the things which are not seen; for the things which are seen are temporal, but the things which are not seen are eternal.

2 Corinthians 4