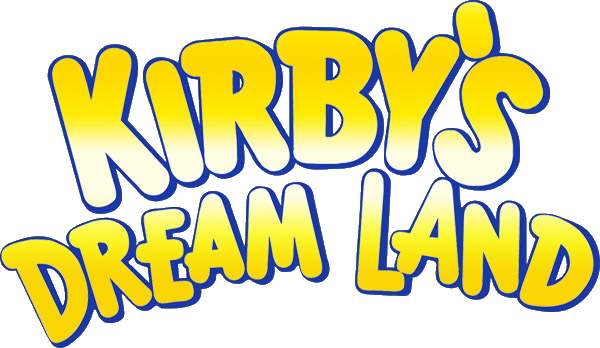 TL;DR – Kirby's Dream Land still touches the heart as an airy, well-designed, and completely endearing platform experience. As the most accessible platformer ever made (probably), it holds the distinction as a simple, yet enjoyable excursion into a light-hearted fantasy world where the player only needs a modicum of skill with its innovative inhale/exhale, offensive/defensive mechanic and floating to win. Yet, despite this ease and this predominant focus on the new gamer, Kirby's Dream Land continues to bring joy through its effortless simplicity of great game design.
The out-and-out Christian is a joyful Christian. The half-and-half Christian is the kind of Christian that a great many of you are~~~little acquainted with the Lord. Why should we live halfway up the hill and swathed in the mists, when we might have an unclouded sky and a radiant sun over our heads if we would climb higher and walk in the light of His face?

Alexander Maclaren
My heart always held fondness for the Kirby series by HAL Laboratory. Although not particularly difficult, nor challenging in the least, they still manage to bring gladness to my heart whenever I pop one into a Game Boy, play one on an emulator, or find myself picking up the Kirby Dream Collection recently released. Hey, I'm nothing if not entirely inconsistent and paradoxical in my love of game franchises (?). Heck, I even got the game when it was originally released in 1992, and played it on my original Game Boy many, many times over the years on a tiny grayscale screen. I've certainly retired the old fatboy version of said system, but I still like the original Dream Land.
Well, except for that time that I traded it for Wario Land 2, destroyed that game, and then ended up getting Dream Land back because that kid's mother got really mad at me and forced him to trade back. So yes, I won that little exchange.
Back to Dream Land, right! The developer's intention, from what I gather, came from the game environment of the time. Games were, to put it bluntly, challenging and unforgiving. Nintendo had some foresight in this department, apparently, and wanted to create an accessible, yet easy and relaxing, platforming experience. This game wouldn't require the player to learn a huge lot of basic techniques or complex physics or anything of the sort; rather, constraining the game to the limits of the Game Boy's two button control scheme became their primary focus.
Certainly, Nintendo shrunk Mario to size onto the portable realm, but Kirby only uses one attack: the inhale/spit combo. Kirby moves just like any video game platformer, but he cannot jump on enemies; that requires strict timing (although it might seem easy to the average gamer). What if the player character could attack and defend themselves at the press of a single button? Thus was the defining Kirby game mechanic born, and it finds its way into every game hereafter. Nearly every enemy and object on the screen could become a weapon to spit and destroy an enemy; on the other hand, sucking up an enemy takes them off the field, meaning a player progresses past an obstacle with ease. I should note that the original Dream Land doesn't present the player with any bizarre complexities like later entries. Some underwater segments exist, but Kirby still retains an offensive function by spraying water at enemies.
The other defining characteristic of Kirby, the "float", means a player doesn't have to deal with the ordinary jumping trials and tribulations of a normal platformer. If a player finds the section too difficult for them (although I've racked my brain for a section of this game that requires precise platforming), they can simply float over any obstacles with Kirby's ability to fly infinitely. We can see this as the modern predecessor to the hosts of intuitive little tools that developers use to aid a player who's having a hard time progressing in a game.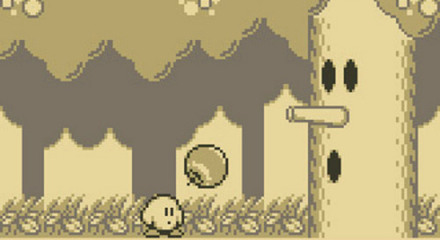 Now, why in the world would I like this game? Doesn't Zach like the difficult games, anyway? I gave DoDonPachi: Daioujou a five out of five, and yet I'm giving Dream Land a score in the range of said game. What gives?
Frankly, Kirby's Dream Land does all the things a good game should do. It has a great mechanic which the developers use to its fullest extent. You wouldn't think that this inhale/exhale would do much to a game's design, but it allows them to create situations where Kirby must dodge, wait, and plan his next move. This becomes especially true during boss fights, as Kirby does not have the pleothera of advanced options that other character have. The simplicity of a mechanics means they can take that quite far in designing the obstacles well without having to dedicate resources to preventing cheating. Even Kirby's flying only allows you to traverse obstacles; it cannot beat a boss for you. As such, the game requires a mastery of the mechanics that you learn as you go through its four stages.
It even has a Mega Man style boss rush at the end to test your readiness for the final encounter against King DeDeDe. Even if the mastery doesn't reach the level of a shmup or a action game, you cannot simply waltz through and expect to win. That's the big difference between the "easy" games of the past and the "easy" games of the present: the former still require a player to learn the game or fail (and yes, you can fail at Kirby; you just need to try REALLY hard). The difference between an invitation to a party and sneaking into a party actually performs the exact same function: you're at the party. But one requires an actual relationship; the other seems a voyeuristic approach into a place where you look, but don't belong. Kirby belongs in the former category.
And let me tell, you, it's a lighthearted, breezy, inviting party where everyone's having a great time on boats eating noodle salad.
Kirby's world of cute characters never fails to bring that sense of joy. The enemies don't look so much angry as indifferent bystanders, merrily going along their way (I guess Kirby's a murderer of some kind. Let that thought sink into your brain for a bit). Everything's cute, fuzzy, and generally non-threatening. Nobody dies (unless turning into stars counts as death in Dream Land, which I doubt). Kirby's merely trying to get food back from King DeDeDe; he stole it all, and that means he did a bad thing, not that he is an evil person. This casual nature, the lack of stakes, and the aesthetics (including that wonderful music) really mean Kirby's Dream Land should never cause any stress, nor tax the player in any demanding way. It's simple enough for a beginner, uses enough brain function for a veteran, and nails that impulse of "FUN" without breaking a sweat. For the veteran, it even has a special Extra Game which considerably ups the difficulty with a few simple tweaks; there's something for everyone in Kirby's Dream Land, even in four (well, maybe five if you count the last portion) total levels.
While the first Kirby outing remains a classic, one can't call it a perfect game. It lacks that emotional investment that a difficult game provides. Certainly, one could see it as the kind of game one desires when you do NOT want to think too hard about anything. It's well-designed at being accessible, at the cost of providing a fuller, more well-rounded experience overall. I call it a half-hour dose of fun; in modern terms, it's a fully rounded smart phone game made twenty years too early.
Even with those caveats, try Kirby's Dream Land for yourself; regardless of whether you think you're too old, or you've merely outgrown this experience, I doubt you have. The little kid inside wakes up again and sees a world of fun and magic here in Dream Land; it's hard to look away once you've seen it. Take a look at Kirby's sale numbers and they speak for themselves.
It's that joy that Christian should try to recapture: the delight in the small things, the big things, and the mediocre things. It's a wonder at God's creation and a willingness to take your time, sit back, and simply enjoy the view for a few precious moments where the heart overtakes the brain. It is that shining moment when you feel the inexpressible, but find that a 1400 word blog entry can't hope to encompass it. Kirby's Dream Land gives us but a video game facsimile of the real thing, if just for a moment:
3 Blessed be the God and Father of our Lord Jesus Christ, who according to His great mercy has caused us to be born again to a living hope through the resurrection of Jesus Christ from the dead, 4 to obtain an inheritance which isimperishable and undefiled and will not fade away, reserved in heaven for you, 5 who are protected by the power of Godthrough faith for a salvation ready to be revealed in the last time. 6 In this you greatly rejoice, even though now for a little while, if necessary, you have been distressed by various trials, 7 so that the proof of your faith, being more precious than gold which is perishable, even though tested by fire, may be found to result in praise and glory and honor at the revelation of Jesus Christ; 8 and though you have not seen Him, you love Him, and though you do not see Him now, but believe in Him, you greatly rejoice with joy inexpressible and full of glory, 9 obtaining as the outcome of your faith the salvation of your souls.

1 Peter 1
To understand the scoring system, see our Review Policy.