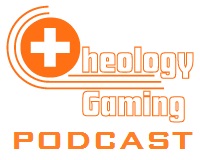 Well, we ain't talking about PAX East (even if I went there), so let's talk about something completely different!
Our objective was to talk about El Shaddai: Ascension of the Metatron and its relation to the actual book of Enoch – we did do a lot of that. Zach and Ted played it, but Joe didn't, so thing went awry around the time Joe dropped into the podcast. What we got was something much more interesting, with much talk about the Pseudepigrapha, canon and non-canonical books, and Jesus kissing people too much in said apocryphal texts. Also, much talk about a wide variety of games, from Joe's recent playthrough of the new Tomb Raider to Last of the Mohicans (Brad Pitt is not in it, Ted! I looked!)
And, as you can tell from the tags, there's tons of other stuff in here, so enjoy!
Please take our survey and tell us what you think!