Wow, was last week a lot of NieR! Because I wrote so much self-indulgent content, I can say for sure that I am not going to be writing a List entry this week. I think you and I both need a break from such long-winded articles. Expect some varied stuff this week, as soon as I finish L. A. Noire. I am looking forward to having that game end and leave my life forever, to be honest. 25 hours is entirely too long for a cinematic game with repetitive elements.
Oh yeah, I was on Gameosaurus' Jurassic Hour podcast nearly a week ago. If you want to hear me talk about video games and theology (and hear my attractive voice), please listen to it here.
Without further ado, let's begin.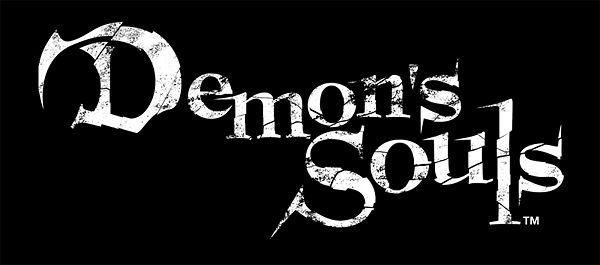 Demon's Souls -I have wanted to start this game for the longest time (or its sequel, Dark Souls), and I finally took the plunge. Knowing that the game would inevitably hand me my butt on a silver platter, not having a manual sure helped to make me feel dumb on more than one occasion (thanks, Best Buy used games!). I hadn't wanted to take the plunge, simply because spending twenty dollars on a three year old game wasn't top on my list of "things I want to throw money at", but its reptuation obviously precedes it; there was no way I was getting a sub-twenty price on it, so I finally took the plunge.
Demon's Souls, contrary to many games made nowadays, doesn't hold your hand or even bother to guide you through a tutorial section. The marks on the floor, though helpful to understand the control, are entirely optional. Of course, none of this will help you with the first boss, who plays upon your expectation of "first boss" in a game by demolishing you almost immediately. That isn't to say it is impossible, but Demon's Souls has its own heart in the gamer's mind – if you didn't know it in advance, good luck living. That's good, though!
How many games in the modern era bother to give the player some sense of accomplishment when they finally clear a tough section of a game, or kill a maniacally tough boss which requires razor-sharp timing, or a perfect parry/riposte into the instantaneous death of an enemy? It's difficult only in that you don't know what to expect – discovery remains the name of the game, both in understanding enemy tactics, finding hidden shopkeepers and items, and memorizing the layouts of a level intentionally to become better and better at the game. Think of it in this way: I find the Elder Scrolls game incredibly boring even though they encourage exploration like Demon's Souls. However, the Elder Scrolls series doesn't give you any incentive to explore because there's no real tension. Demon's Souls ensures you are on the edge of your seat, playing with extreme caution as you attempt to survive and obtain new techniques and items. Especially as dying has real consequences, you won't take your life for granted here. There's a much shorter margin of error, sure, but that's why you have motivation to find the next challenge.
Half the time, you don't even know all the mechanics. Did I know I was in Soul Form rather than Human Form for most of my gaming time? Not at all! I sure didn't understand why my health was permanently placed at 50% rather than filling the whole meter. These things take time. Demon's Souls requires investment solely as it recognizes the journey is more important than the destination. My killing the boss culminates the satisfaction of the challenge, but it also represents a climax to all the attempts done beforehand.
The controls haven't failed me too often in my quest to play through the first section of the first level. The parry/riposte timing seems very strict, but I think that's a good thing because it could easily find abuse if the timing window was too lenient. I've missed it more than I should, but it's my own fault. The targeting system works similarly to Zelda's Z-Targeting system from Ocarina of Time, yet actually makes a few improvements made necessary by the game's mechanics. As multiple enemies can attack you at once, a quick target switch becomes incredibly important; here, it just requires a flick of the right analog stick to the direction of the foe. This simple solution fixes the whole problem with Zelda's system. See, because it's difficult to switch Z-Targeting, Nintendo made it so one enemy could attack you. The other enemy's AI pattern would back off slightly to allow the player a fighting chance against odds of two or more. From Software, through this simple change, allows for many enemies to attack at once, putting additional strain on the player's reactions and dodging skills, as well as one's ability to multitask. It's a great mechanic, and I'm surprised how well it works.
All in all, Demon's Souls was a present surprise; although not quite as difficult as people say (it's only because they can't adjust from the handholding tutorial), it's rather enjoyable and deliciously crunchy action-RPG. I'm hoping to play more.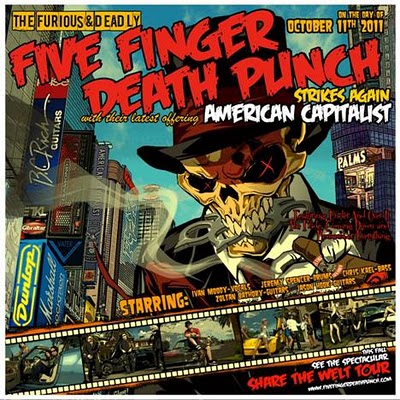 Five Finger Death Punch: American Captilist - Every once and a while, I get the urge to check out Amazon's MP3 store. Massive discounts this week on rock music, so I picked up this album and Foo Fighters' Wasting Light. Guess which one I'm listening to more?
It's totally something I shouldn't enjoy, but cheesy metal (and, in this case, metalcore) always make me smile. Think Killswitch Engage or As I Lay Dying style, except much more rock'n'roll stadium friendly with catchy clean vocal choruses. I know they're trying to be so serious about being big "badasses" or whatever with all the naughty words they use to show they're "tough", but this albums oozes with delectable, completely unhip cheese. The title, from what I can tell from reading the lyrics, equals a partly ironic take on American capitalism's benefits and downfalls, as well as showing us how awesome a band named after some imaginary kung-fu move can become, especially when they try to take something seriously (or not). Heck if I know; it doesn't seem the band knows either.
Seriously, this album gives me bouts of motion sickness, schizophrenia, and multiple personality disorder; it's as if the band didn't know whether or not they wanted to create a message of social commentary or just make a set of unbelievably catchy fist-pumping anthems in the style of Disturbed or nu-metal. Either way, they've succeeded in confusing and delighting me at the same time. Not many bands can say that. Even the guitar and drum work is pretty exemplary (unlike, say, Korn or Slipknot). I can't recommend this to everyone, though; if you can deal with the cheese, jump right in 'cause the water's fine. If you can't accept a band like this becoming the face of American metal as they've become, then look elsewhere.
"Baba Yetu" from Christopher Tin's Calling All Dawns or Civilization IV
I think it really explains itself. It's the Lord's Prayer in Swahili, for those wondering. And is it ever beautiful! Prayer combined with music always adds to it, really; all the Psalms, though read as text by most readers today, were meant to be sung in some manner or fashion. It works regardless of the language because it's words are timeless and essential, however they've been translated. Truly stupendous. I need to listen to Calling All Dawns a bit more beyond the one song, but it's worth it to buy the Humble Music Bundle just for this!
———————————————————————————————————————————————————————————————————————–
That's all for this week's Monday Update. Stay tuned for some completely random content in the coming week!
---