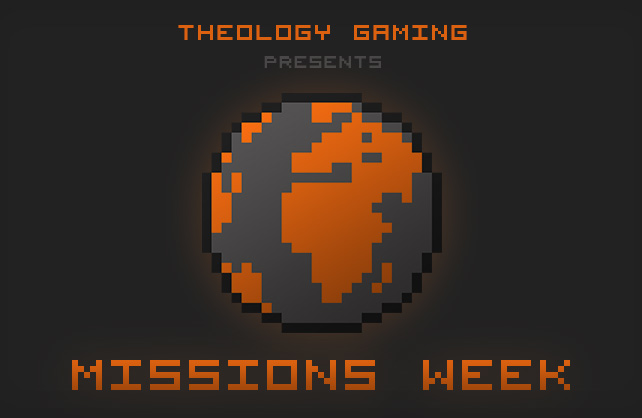 What do you think when you hear the word "Missions"? Frankly, you'd imagine video games and the world of evangelism do not intersect, but you'd find yourself surprised if this week has anything to say about it.
Can we minister to gaming culture? How can we form effective missions work in one of the largest untouched demographics in the world, one continually rejected by churches worldwide? Theology Gaming's Missions Week seeks to answer these question with great insight (hopefully) and aplomb!
Look for a new one each day at 12 EST. Sorry, other folks!
Gamecell, or How To Become A Missionary To Your Basement by M. Joshua Cauller – November 11th, 2013
Missions Quest (Part 1) by Eric Anderson – November 12th, 2013
Missions Quest (Part 2) by Eric Anderson – November 13th, 2013
Missional Mindset as the Thematic Content of Games by Eun-Woo Chung – November 14th, 2013
A Call for the Christian Gaming Community to Really Matter for Christ by Yann Wong – November 15th, 2013
The Next Generation's Effect on Evangelism and Discipleship by Andrew Crawford – November 16th, 2013
Video Game Evangelism: Pros and Pitfalls by Zachery Oliver – November 17th, 2013
Also, we'll probably have a podcast in the middle there somewhere. Stay tuned!