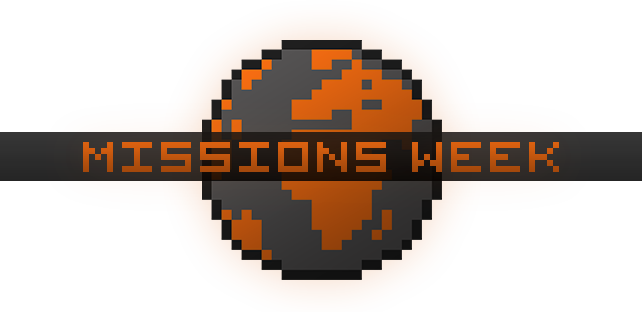 What is your favorite questing game? Zelda? Final Fantasy VII? Quests make us who we are. We all need adventure. We do like to fight battles, don't we? Either because we like competition or because we like the purpose that we feel comes from them. We also like to help people.
I have been on many Missions quests in my life. Some have taken me to Europe. A couple of quests brought me to China. One took me to the Middle East. Quests involve many facets, but I think the main ones are Sending, Adventure, Treasure, Team and Battles.
First let us remember WHO is sending us.

Every quest is sent/called for by someone, or sometimes an ideal. True love calls Wesley out of piracy to rescue Buttercup. Gandalf invites Bilbo on a grand journey. In Heroscape, the various Valkyries call their heroes and squads from throughout time and space.
In our case, the Chief Caller of Quests sends us. The same one who called Abram to leave his town and eventually changed his name to Abraham and who called Moses to go back to Egypt to rescue the Hebrews calls for our aid. This Supreme Creator performed miracles such as parting an entire sea, raising the dead to life, and empowering mere men to do amazing miracles, not for their glory, but for His.
He is the image of the Invisible God, the firstborn over all creation. For by him all things were created: things in heaven and on earth, visible and invisible, whether thrones or rulers or powers or authorities; all things were created by him and for him. He is before all things and in him all things hold together. And he is the head of the body, the church; he is the beginning and the first born from among the dead, so that in everything he might have the supremacy. For God was pleased to have all his fullness dwell in him, and through him to reconcile to himself all things, whether things on earth or things in heaven, by making peace through his blood, shed on the cross.

Colossians 1:15-20
Now, most of us will not receive the call in the exact same way as Isaiah. He was actually brought to the throne room of God! When I am to go on a Quest, I hear about it and I just know what God wants me to do. The Holy Spirit impresses this particular need on me. For some it might appear like an opportunity they do not want to miss. What did Jesus say?
Therefore go and make disciples of all nations, baptizing them in the name of the Father and of the Son and of the Holy Spirit, and teaching them to obey everything I have commanded you. And surely I am with you always, to the very end of the age.

Matthew 28:19-20
In the book of Acts we see different people being called in different ways. The disciples need help so they call for wise men to help dispense goods to the needy, specifically so they can focus on teaching. While fasting and worshiping, the church at Antioch feels a collective whisper of God to send Paul and Barnabas to other cities to teach the Gospel. Note what often happens before they are sent out: they spend time with God. Even a cursory look at Matthew 28 and the Great Commission reveals that before Jesus spoke the Disciples worshiped Him.
Are you seeking God for direction? Are you asking for a quest?
Adventure is sometimes a good thing, sometimes a bad thing, but it is always exciting!
On my first mission, which took me to Ireland, I found myself in the city of Downpatrick. They named the city for burial place of Saint Patrick, which is at a church on a hill overlooking the city. Our goal was outreach out to the kids/teens in the city, but some ominous adventures occurred during this trip. We stayed at a large manor house approximately 35 minutes away that lies inside a nature preserve. It was nice, of course, but gave off the aura of an episode of "Scooby Doo, Where Are You?" We had to go through a foreboding gate each time we arrived, and then traverse a winding road to the house.
That feeling of a Scooby Doo show was intensified on a couple of days toward the end. One day we went to a play in which one of the kids participated. For no explainable reason, they held it in an auditorium within a very gothic (and freaky!) mental health facility (basically, an insane asylum). And yes, we arrived when darkness began to fall. The play entertained, but the whole situation produced an odd feeling both coming and leaving. The next evening we went to pray for the city, but in an old 11th century abbey that sat across a river or lake from the town. The abbey, unfortunately, lies in ruins now. As we traveled during the twilight hours, I saw a house right there with a reddish sky behind it that came right out of a weird 70's movie.
CASTLES! Who doesn't love them? I visited many castles in Ireland, Slovakia and Jordan. Dunluce Castle in Ireland perched on a cliff. In fact, part of the area eroded, and we crossed a bridge to reach a portion segmented from the rest. I remember one day in Slovakia when we rafted in 2 groups taking turns. While one group proceeded down the river, we waltzed through a castle overlooking the river. I actually got to see a castle in Jordan that had been used by both sides during the Crusades. What a dichotomous mix of architecture!
These adventures are all well and good. They were fun and exciting, but the biggest adventure in life is found with Christ. Imagine the adventure of praying with someone who hasn't seen their nieces and/or nephews in 3 years because of family separation and hearing a praise report that they got to see them! Often we think of life with Christ as nothing more than going to a service each week with music and teaching – just barely making it in life. But God does mark adventures out for us. Not everyone will get to go overseas, but if you can you should. We're talking about a God who created millions of stars, told a man to build an ark and take all sorts of animals with him to start a new world, sent fire that ate up soaked wood, tamed lions, and even raised the dead to life! Do you really think a God like that wants your life to be boring?
Treasure

is not always what we think it is.

One time some friends and I were in a desert exploration area in the Middle East. My roommate climbed up a rock face with some others and yelled "ERIC!" I looked up to see an excited Josiah hold up a triangle perfectly formed out of rock! "I found a piece of the Triforce!"

However, when I think of treasure from my quests, I think of people. I think of my English students in Croatia, China, and Jordan. I think of a Chinese girl who hung around English camp an hour after it was over on the last day and then went home saddened and crying because camp was over. I think of an energetic guy in Croatia who was hitting on all the girls and spent the better part of an hour with me at a coffee shop event talking about God. I think about a kid in Ireland who came to our evening hang outs and left one night with a Bible and came to church the next Sunday for the first time. I think of a bunch of guys in the Middle East who loved silly games and would hang out at the English center every night.

You don't always find treasure where you expect it, either. That group of silly guys? I had the hardest time connecting with them because he and I were so different in so many ways; of course, he was also the only one of them who wanted to ask me questions about God and the Bible. Now, I didn't answer his questions perfectly. In fact, I had a hard time understanding his questions, but I did get to share some reasons why I follow Christ. Don't expect to get everything right. I definitely don't! Just keep taking steps and learn from your mistakes. Every little bit of service helps.

I remember hanging out in an airport in Asia waiting for a flight when I found a booth asking for feedback about the airport. I sat down to talk with some college-age kids running the booth. I pulled out something to show them from my pack and in doing so pulled out my Bible. They had several questions for me. That, my friends, is treasure.

You find treasure just by filling the needs in the people you meet. My church has a phrase for our outreach strategy: Whole Church, Whole Gospel, Whole World. Whole Gospel means we don't just look for times to preach, but that we actually seek to fill emotional, physical and spiritual needs. As you meet these needs, you get a clearer picture of what was already an amazing treasure. This is why my friends and I in the Middle East did physical labor at a hospital, as well as teaching English as well as holding a children's program in a refugee area and participating in a four day fast. This is why so many missionaries out there are engaged in educating people about the dangers of human trafficking scams that lure young girls into terrible situations.

Paul, in a letter to one of the churches he had started, said:
For what is our hope, our joy, or the crown in which we will glory in the presence of our Lord Jesus when he comes? Is it not you? Indeed you are our glory and joy.

1 Thessalonians 2:19-20
Tomorrow we will look at assembling a team and fighting the battle. In the meantime, consider what kind of treasure your Sender has already given you. Remember that the best adventures come after spending time with the Sender of the Quests.