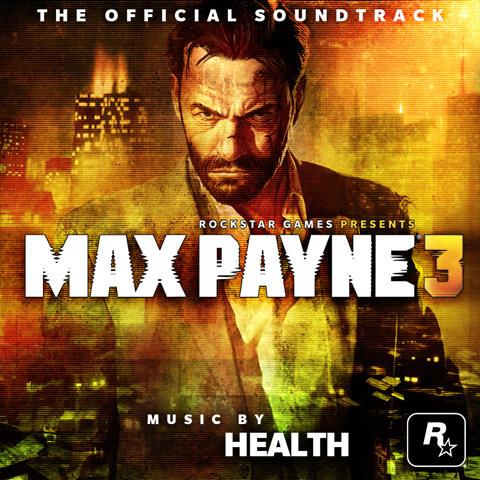 In the review of Max Payne 3, you'll notice that I devoted a mere sentence to the soundtrack by HEALTH. That is because, observant reader, I want to actually talk about it and also fill another day of posts at the same time.
I am not much inclined to indie rock; much of it reeks of awful pretentiousness, and not the good kind. Some pretentiousness takes itself entirely seriously, while other artists know they are and embrace it by default. There's a fine line between progressive rock and Wagner, for example; an overblown, and over the top score can seriously entertain. Not knowing HEALTH was a noise band of indie/Pitchfork Media fame, I went into the game blind. I was pleasantly surprised to learn that this soundtrack doesn't display any of those initial misgivings; instead, the dynamic soundtrack augments the experience greatly (as I said in the review).
From my perspective, a video game soundtrack needs to effortlessly integrate itself into the whole experience. It can't be horribly intrusive as to become the main focal point, nor can it be so quiet as to be unmemorable. You can think of the former as the output of Square-Enix in recent years; Final Fantasy XIII's soundtrack, for example, stands alone as an album, but it really overwhelms the horrible writing of that game by virtue of its own quality. The latter happens in many games with "ambient" soundtracks – these barely qualify as music in some cases. A plucked string here and a rocky sound there don't add much to the overall product; if it's that unobtrusive, it shouldn't be there at all from my view. The music in Blizzard games falls on this spectrum.
HEALTH's opus avoids these pitfalls. The soundtrack contributes ambiance, but doesn't exist merely as background music. Songs structure themselves into a way that could be considered "unobtrusive", but they work subconsciously to the mood. Take "Shells", for example:
This music actually plays during one of the first big action sequences in the game, during a helicopter chase sequence (I think). It highlights the metallic bright lights of Sao Paolo's neon colored skyscape with a natural and unnatural soundscape. It reminds me a great deal of a Michael Mann score, trying to encapsulate the tone of a city's cold indifference. Rather than enveloping the ensuing action sequence, it integrates itself into the experience by changing tempos and intensity depending on what's happening on screen. The latter half of the original soundtrack's version contains the version played for action sequences. I have absolutely no idea how they were able to do this, but HEALTH has really impressed me with this soundtrack.
Not every track has that "samey" feel that many ambient soundtracks have. Part of the fun, in this case, is finding out that HEALTH doesn't use as many electronic instruments as you'd think. Many of the sounds come from real instruments, or banging on random objects. Through electronic processing, however, there's a great deal of sounds to be had, and that's what makes it a pleasure to hear, even abstracted from the game. 'The Girl", for example, introduces a set of sounds we could describe as South American on our first listen, but then we see they're integrated with the sound of "Shells" from earlier:
"Max Kill", the following track, uses an exemplary set of drum beats to continue this trend, leading up to the creepy vocal chants of "+90", and then a return to bongos in "Max: Favela". If anything remains totally consistent in this album, it's the melodic component. There's a hidden melodic line in all the tracks, subtly placed in, that echoes a simplified version of the original Max Payne theme (which, for whatever reason, isn't on the official soundtrack). It allows HEALTH to explore new territory with each track yet still retain its connection to Max Payne's fractured psychological state. There are moments of both beauty and dissonance, and both play an equal part in establishing, along with the visual, the heightened emotions of Payne on screen. Seriously, this album works so well I'm surprised no one thought to give the reigns of a video game soundtrack to a rock band. Sure, that's happened before, but never with such results that actually work both in the game and without.
In modern culture, music has become an essential part of our identities. What bands you listen to, what artists you like – music becomes a language-less way to bridge divisions in us all. Since Max Payne 3 contains so much Portugese, it fits with the setting that the music should try to communicate without lyrical content (that is discernible, anyway). Does dissonant music that represents a distanced personage a good representation of music pleasing to God? Well, I would assume so! Take a look at any of David's Psalms during his time escaping Saul's far-reaching arm, and you'll see more than a few times that "Psalms" does not mean "Happy songs dedicated to God about how awesome my life is." Psalm 22 makes it clear that David's life, even in devotion to God, wasn't all gumdrops and rainbows:
My God, my God, why have You forsaken me? Far from my deliverance are the words of my groaning.2 O my God, I cry by day, but You do not answer; and by night, but I have no rest. 3 Yet You are holy, O You who are enthroned upon the praises of Israel. 4 In You our fathers trusted; they trusted and You delivered them.5 To You they cried out and were delivered; in You they trusted and were not disappointed.6 But I am a worm and not a man, a reproach of men and despised by the people.7 All who see me sneer at me; They separate with the lip, they wag the head, saying,8 "Commit yourself to the Lord; let Him deliver him; Let Him rescue him, because He delights in him."9 Yet You are He who brought me forth from the womb;You made me trust when upon my mother's breasts.10 Upon You I was cast from birth; you have been my God from my mother's womb.11 Be not far from me, for trouble is near; for there is none to help.12 Many bulls have surrounded me; strong bulls of Bashan have encircled me.13 They open wide their mouth at me, as a ravening and a roaring lion.14 I am poured out like water, and all my bones are out of joint;My heart is like wax;It is melted within me.15 My strength is dried up like a potsherd,And my tongue cleaves to my jaws; and You lay me in the dust of death.16 For dogs have surrounded me; a band of evildoers has encompassed me; They pierced my hands and my feet.17 I can count all my bones. They look, they stare at me;18 they divide my garments among them, And for my clothing they cast lots.
That certainly doesn't sound like good times, does it? This is the kind of message I get from Max Payne 3's soundtrack: a broken man trying to set things right that he, unknowingly, set wrong, but failing miserably due to his methodology. That's a weird message to see in such a game, but the music really, for me, gives this vibe off. If a game can provide a soundtrack that actually represents its own themes, wouldn't you consider that a success? I certainly would!
Play the game first to see what I mean. You can buy the soundtrack (digital only) on iTunes or Amazon MP3 Store.