Batman: Arkham Asylum is an excellent experience. It basically puts you into the role of Batman – if you've watched a Batman movie, read the comic, or encountered the character or the concept in any number of different entertainment media, you basically know what you're going to get. Have you ever wanted to beat up thugs with Batman's effortless grace, able to counter smoothly, using the Batarang and fluid movement to knock your enemies unconscious? It's in here. Ever wanted to play the terror of the shadows, yanking villains up into the rafters and striking fear in the heart of your better armed, but not more intelligent, enemy thugs? Sure, it's in here too. Want to grapple about, fly and glide like a bat? Oh yes, you can! Ever wanted a real comic book story told within a game, one that takes advantage of the properties' vast back stories and history rather than some movie license? Definitely in here. For icing on the cake, why not have the voice actors from the Batman animated series, long considered the best and most accurate Batman property (until Christopher Nolan's movies came along), and a pretty stellar performance overall? Check.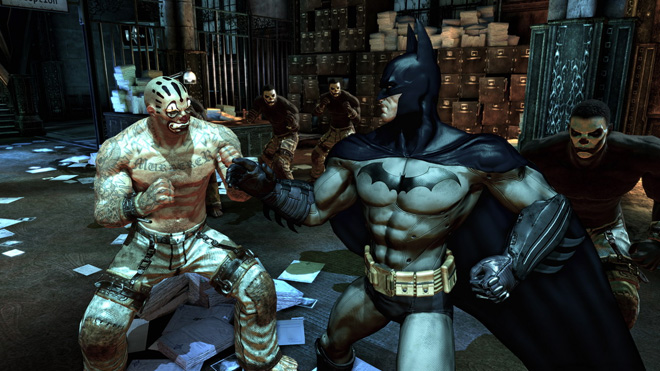 Batman: Arkham Asylum isn't an excellent game. Anybody with a care for precision or depth isn't going to find that here. It takes cues from Metroid, stylish action games, stealth action like Splinter Cell, a little Tomb Raider/Prince of Persia, and context sensitive button presses to combine everything into one control scheme, but it doesn't work quite as well as it should.
Combat, though quite awesome looking, doesn't have the accuracy and fluidity of control you'd expect. Playing the game on Hard (I skipped Normal, ya pansies), doing attacks on downed opponents in a fight is just begging for you to take damage – why is this move here if it leaves you open to attack when fighting 5 or 6 thugs? On normal, perhaps, this works fine, but there's no point to the move in Hard except in very select circumstances. At least Hard requires you to pay attention to all the enemies for countering purposes, but it ends up being a game of Simon Says – press one button or the other, and point Batman in a direction. Most of the time, Batman's doing things out of your control in those fights, and while they certainly look cool, I'd like to actually control what attacks I get to use. There's no depth, in other words. It's almost like Super Mario Bros. – jump on top or use shell, but we've transplanted it to a Batman setting.
Furthermore, the stealth sections (including the hallucination stuff) are just trial and error sequences that don't require a whole lot of the player's attention. Hey, if you get seen and are shot to death, here's a checkpoint two seconds away! It's pretty awesome to swoop down from the shadows and knock some guy out, sure, but sometimes Batman doesn't do what you want. Case in point: gliding seems very wonky, in that it works sometimes but not others. At points, I would jump down on a thug by accident rather than gliding, and get shot down. This is irritating and frustrating, not fun. At least if there's was tension to these stealth portions, it would inspire me to be patient and focus on the task at hand, but the checkpoints make these a breeze – albeit a hot, bothersome, uncomfortable wind.
The "detective" portions do little to amend these problems. They're a bunch of predetermined story contrivances that move you along in the game – you're not actively doing anything with your mind other than figuring out what exactly the game wants Batman to do or where he wants it to go. Metroid Prime does this, and does it well because that's the only way to understand the planet you're exploring. There aren't any cutscenes in Prime, save for a few essential ones (Ridley!), so that was neccessary. As well, they were never essential to your progress, as they were optional for those invested in the Prime universe. Arkham's "scanning" is just tedious and boring, and just doesn't add anything. Accurate to the character? Probably. But it's not really engaging in any way as the game wants you to think.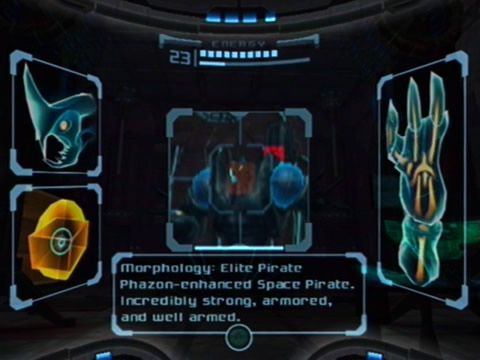 In sum, a lot of Arkham Asylum comes down to a string of different minigames with a beautiful and engaging Batman sheen. Where are the obstacles? Should everything to Batman be this incredibly easy? What about the parts where he faces great adversity and overcomes great odds to emerge victorious? You just don't get that feeling at all! Even games where you are a hero have some difficulty in them – otherwise, are you a hero or simply play-acting as one? This is, frankly, a disturbing trend. Was I playing a game or watching an interactive movie or television show? I think this should be cause for great concern!
We might say: what exactly do you want when you play a game: an experience, or a game? I'm not saying you can't have both, but it seems modern games have taken the experiential and the emotional, rather than the grueling challenge of yesteryear. They tell me what I should feel, rather than how I should think. It's as much a cultural change as anything, and I subtly suspect this has much to do with the hatred of modern Japanese games in that they retain the conventions of old, in many aspects, and their appeals to Western audiences suffer from the same problems as Western games. Whatever the cause, games have degenerated from experiences of skill to experiences in and of themselves – that isn't a good thing.
I don't want an either/or situation, because I don't think that's right either. We need both, and there's always a tendency to do one well, then fail miserably at the other (Arkham Asylum as a case in point). The holistic view should be supplemented by its foundation. People are shaped and molded by adversity and challenge, whatever their walk in life. It's what makes you WHO you are. Your experiences are informed by the obstacles you face. Without it, who are you, and where are you going? Do you even have a personality or life without difficulty? Who can even boast that?
Hebrew 12 speaks to this very issue in the life of the believer:
Therefore we also, since we are surrounded by so great a cloud of witnesses, let us lay aside every weight, and the sin which so easily ensnares us, and let us run with endurance the race that is set before us, 2 looking unto Jesus, the author and finisher of our faith, who for the joy that was set before Him endured the cross, despising the shame, and has sat down at the right hand of the throne of God. 3 For consider Him who endured such hostility from sinners against Himself, lest you become weary and discouraged in your souls. 4 You have not yet resisted to bloodshed, striving against sin. 5 And you have forgotten the exhortation which speaks to you as to sons:

"My son, do not despise the chastening of the Lord,
Nor be discouraged when you are rebuked by Him;
6 For whom the Lord loves He chastens,
And scourges every son whom He receives."

7 If you endure chastening, God deals with you as with sons; for what son is there whom a father does not chasten?8 But if you are without chastening, of which all have become partakers, then you are illegitimate and not sons.9 Furthermore, we have had human fathers who corrected us, and we paid them respect. Shall we not much more readily be in subjection to the Father of spirits and live? 10 For they indeed for a few days chastened us as seemed best to them, but He for our profit, that we may be partakers of His holiness. 11 Now no chastening seems to be joyful for the present, but painful; nevertheless, afterward it yields the peaceable fruit of righteousness to those who have been trained by it.
In the words of my pastor, "Jesus bled for you, why don't you sweat for him?" Whereas I don't think that applies in terms of works vs. grace, it certainly applies here in great measure. Without trials and tribulations, what greatness is there to be found? I just don't like when video games fail to reflect life itself; when they become a mere escape, they become worthless triviliaties and toys. But they can transcend beyond that; we've all been hoodwinked by shiny graphics and music, but the soul gets taken out.
And that's a really roundabout way to say I don't like Arkham Asylum when I observe it posthumously (still haven't finished it), but there you go. And I guess I also like Hebrews a whole lot, too.