I loved Volume, but that doesn't mean you will. Volume is Mike Bithell's sophomore indie game. His previous game, Thomas Was Alone, surprised us by telling a heart-rich story with nothing but rectangles, decent puzzle platforming, and a talented voice actor. Volume focuses on stealth action while letting the story fall into the background.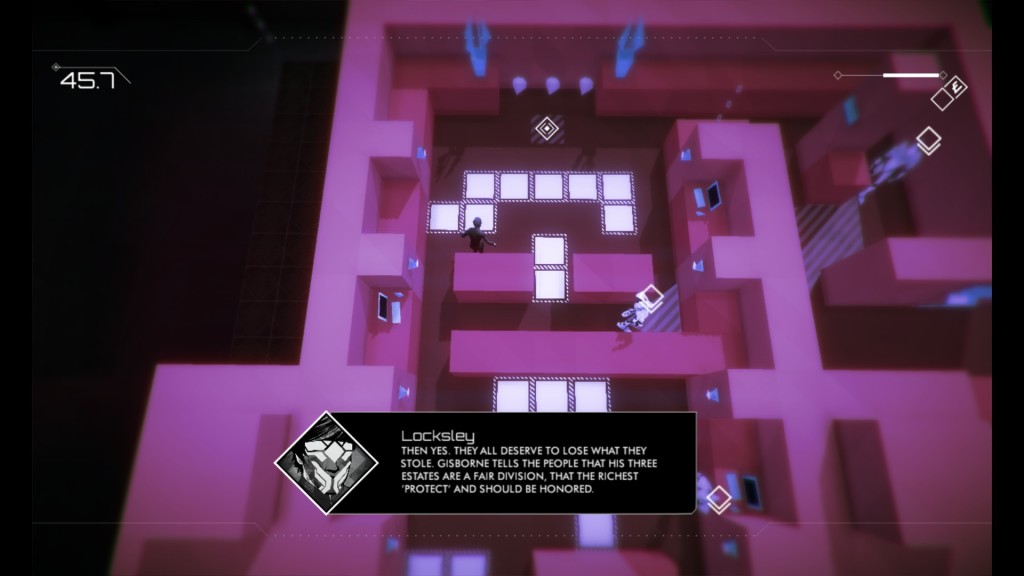 1. Best: Volume's sneaky stealth action remains as gripping as its visual design.
I remember Metal Gear Solid's VR Missions fondly, and Volume plays to that nostalgia in flattering fashion. Each level plays just like those VR Missions. These test chambers light up my sneaky lab-rat brain. I just want more cheese! Volume has lots of sticky yummy stealth-challenge cheese.
2. Best/Worst: Play as a future Twitch streamer who streams simulated burglaries.
The game casts us into a Twitch (as in the streaming website)-esque Robin Hood character's shoes. He projects the layouts of rich people's homes and illustrates how to rob them. I assume you are familiar with the commandment to not steal, but this game lets you explore the nature and consequences of theft from the comfort of "it's not real."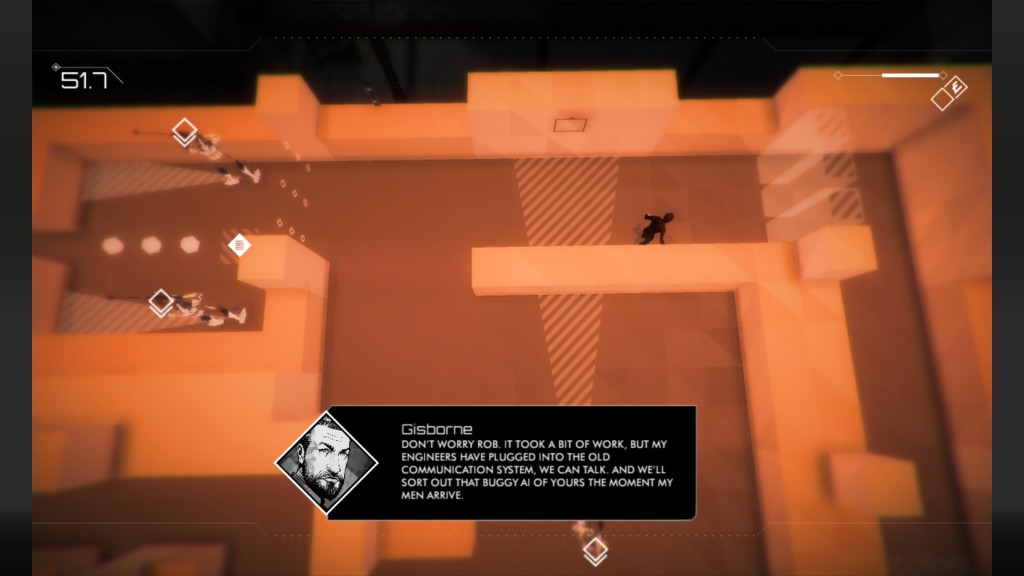 Remember Andy Serkis? I remember him as Sméagol from Lord of the Rings. He's the villain in Volume (which is funny, since I'm also playing Enslaved: Odyssey to the West, where he's the hero). Danny Wallace returns from his Thomas Was Alone voice role to be as charming as ever here. Unfortunately, the story of glorified theft demonstrations hit positive and negative points. The story strikes an uneven quality with questionable morality, though the great voice acting gets you into the story's tension.
3. Worst: It's a better game than a story.
Volume's levels taste like small yummy bits, but the story often interrupts the game. I got to a checkpoint right before I kept getting spotted by an enemy. Each time I'm spotted, the story audio stops and the "you're spotted" music blasts away any voice over. When you keep getting caught and the game forces you to listen to the same line delivered twenty times? It's frustrating. When I'm just failing and restarting without hearing the same lines, the experience becomes much more pleasant by comparison. The story bits only come up in one-fifth of the levels fortunately.
4. Worst: The stealth puzzles usually only have one solution.
Call me a spoiled brat, but I really love stealth games that offer more than one solution. Volume only allows one solution to most of its puzzles. Most levels limit your toolkit to only one specific item for each room. Five of the one hundred levels give you a choice on which tool you can pick for the job. The other ninety five percent of the time, the game sticks you with the one true solution. I hoped Volume would trust me with more freedom, but I understand how that requires much more design time.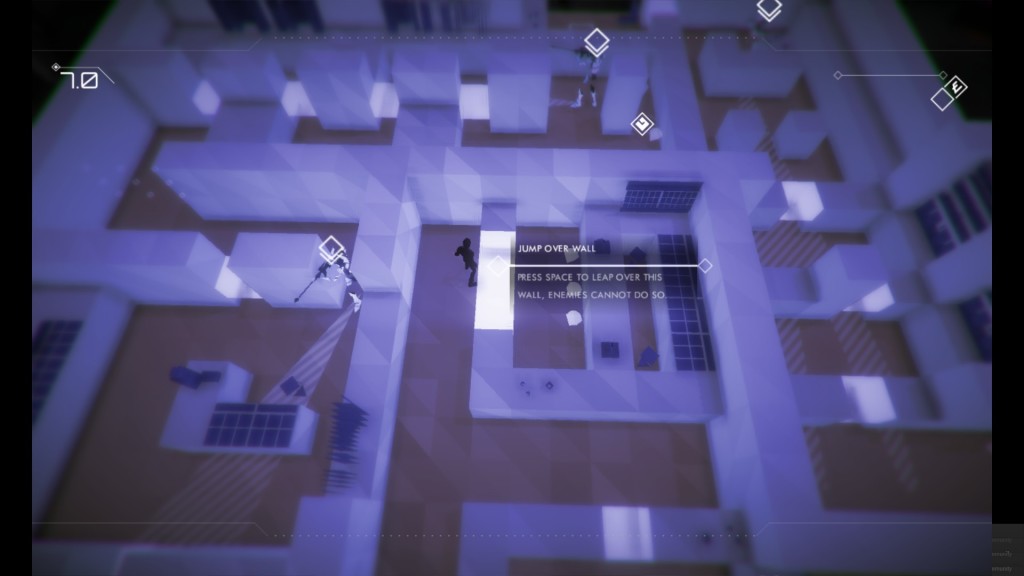 I messed with the game's level-creator. Volume's creation tools present thoughtful and robust options. But I see exactly why Mike Bithell didn't make more levels with variable solution: it presents harder design work. Certainly, you can do it, and many players will likely come up with captivating challenges. But. sorting out the curated content for the fun levels might feel like digging through bargain bins at Goodwill. So far, I didn't find anything I liked, even from the curated works. I'm sure that will change as more people play the game.
5. Best: I could sink my teeth into the stealth time trials.
I flew through the second half of the game, not because it's super easy (it's a little easy), but because I was so dialed-into the stealth speedruns. Even on my first try, I'd see my time on the leaderboards in a place I liked. Volume just came out last week, so we should expect less players on the leaderboards. But I felt good about how quickly I could beat the levels; that made me want to play more of the game.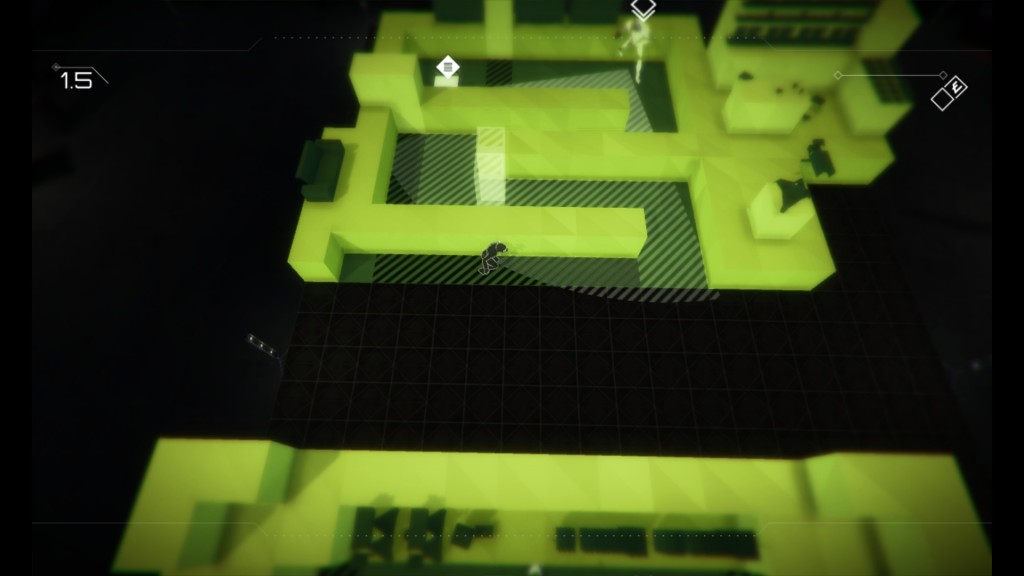 Unfortunately, my speed running meant I finished the game faster than I wanted. After you get 100% completion, there's nothing to do other than level-creation and time-trials. I robbed myself a little bit of savoring the experience. Still, additional play-throughs appeal to me even though the game doesn't have a New Game Plus mode.
Check out Volume if you like sneaking suits and non-lethal gameplay. But if you want a great story similar to Thomas Was Alone, you'll only get a glimpse of that here. I'd recommend the game to anybody who wants seven to ten hours of sneaking missions on PS4 or Steam.